Pilates for Relaxation
Pilates aids relaxation by teaching the body to recruit specific muscles in a steady, controlled way which increases strength and well-being as well as reducing the build-up of muscle tension. Pilates incorporates breathing and encouragement of body awareness for a heightened mind body connection.
How it Works
Pilates takes you away from the stresses of busy daily life to allow you take some time for yourself. Pilates integrates deep breathing into the exercises to reduce feelings of anxiety and encourage relaxation through the body. Various stretches for the neck, back and shoulders also help to reduce heaviness and tension in the muscles, leaving you feeling floaty and energised.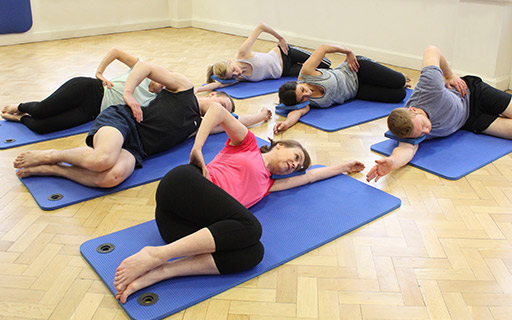 Whether you choose to take part in a Pilates class or private session, your programme will include a warm up of mobility and stretching exercises in addition to a series of matwork exercises working different areas such as upper body, core and gluteal muscles. Pilates is different to other forms of exercise as it leaves you feeling invigorated as well as at ease due to its slow and flowing nature. Our Pilates sessions often close with a cool down dedicated to relaxation with a technique called contract relax, led by your experienced Pilates instructor.
Benefits of Pilates for Relaxation
Pilates for relaxation can bring many benefits including:
A relaxed but energised workout
Better mood and positivity
Reduced stress
Reduced muscle tension
Increased mind body connection
Increased overall well-being
Willingness to socialise
Increased motivation and confidence
Reduced risk of injury
Meeting new people and our friendly instructors
To book your free taster class click the Book Now tab or call today on 0330 088 5778 or email office@physiolates.org.uk
Back To Top